Advanced Topics in Management
Aims
The Strategic Management of Knowledge Resources will briefly cover several areas of vital and increasing importance to managers in the International and National cosmetic and perfume industry over the next decade.
The aims of the course are:
1. To explore the activity of managing knowledge from several perspectives to provide students with conceptual frameworks, practical management tools and 'good practice' guidelines within a critical framework for the effective management of knowledge, intellectual capital and intangible assets.

2. Equip practising students who attend this course to be:
Able to locate the management of knowledge, intangible assets and intellectual capital within historical, theoretical contexts in order to critically appraise current practice and future options;
Able to appreciate the role of knowledge as a key factor of production;
Confident to manage the interface between tangible and intangible assets more effectively;
Familiar with the key issues surrounding the economics and value of information and knowledge, and be able to carry out a preliminary evaluation of the intellectual capital within a chosen organisation;
Able to analyse and develop individual and organisational knowledge management capabilities.

Contents
This seminar series will explore five main topics:
Introduction to Managing Knowledge
Introduction to Intangible Assets and Intellectual Capital
Measuring of Intellectual Capital
Reporting of Intellectual Capital
The Strategic Management of Knowledge Resources

A detailed outline of the contents of each topic is now provided below.
Topic 1: An Introduction to Managing Knowledge
Why is managing knowledge on the corporate agenda, and why now? This topic briefly explores the area and also provides illustrations of practice. It identifies key knowledge issues, concepts and challenges, and provides a general introduction to the area.
Topic 2: Introduction to Intangible Assets and Intellectual Capital
This topic explores the notion of intellectual capital, its relevance for the current business environment and the challenges posed to the strategic formulation process; and to the traditional management, measurement and reporting methods.
Topic 3: Measuring of Intellectual Capital
This topic explores the components of intellectual capital that represent one of the main value drivers of organisational performance. It also discusses different measurement approaches and how measuring Intellectual Capital can be used to visualise and discuss organisational value creation processes and lead to better understanding of the organisation itself.
Topic 4: Reporting of Intellectual Capital
This topic explores the components of intellectual capital and the various reporting issues that surround this aspect of knowledge management. Illustrations from annual reports will be provided.
Topic 5: The Strategic Management of Knowledge Resources
This topic will integrate the management, measurement and reporting of Intellectual Capital in a consistent framework providing a number of practical illustration from international organisations.

Required course material

Program and Readings required for this course will be provided by the Master office.

Courses assignments and class evaluation
The requirements for the course and the contribution of each towards the final grade are as follows.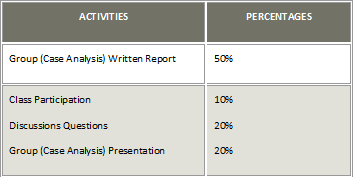 Class Participation
Your active participation in the discussion in class is considered very important in this course. Prior preparation of the cases and assigned readings are essential. By making 50% of your grade dependent on various forms of your participation in class, (i.e. Class Participation, Discussion Questions and Group Presentations), we hope to encourage you to feel responsible in making this course work. Class attendance is required.
Aims
This seminar aims at providing a full discussion of corporate social responsibility issues taking the broadest view of the corporate governance agenda. The aims of the course are:
to develop an awareness of the practical problems associated with the management of different stakeholders;
to give students skills and competencies necessary to strategically evaluate and implement corporate social responsibility of a company;
to encourage them to think critically about stakeholder management and CSR.

Contents
This seminar will consist of five interrelated topics, each aimed at providing answer to the question: How to practice strategic CSR? We begin by acknowledging the fact that many CSR efforts are little more than PR campaigns designed to promote corporate brands - by creating appearance of being "good corporate citizens". The result is CSR investments that deepen public cynicism. Equally important, they do not enable companies to profit from their good works. CSR, it is argued, can help deal with social issues and give companies a competitive edge - if approached strategically. The five topics that will be covered in course of the seminar are:
Understanding the Strategic Significance of Stakeholders
Corporate Social Responsibility: Doing Well by Doing Good
Strategy and Society: The Link Between Competitive Advantage and Corporate Social Responsibility
Business's New Social Compact: Developing New Business Models at the Bottom of the Economic Pyramid
Strategic Corporate Social Responsibility as a Global Brand Insurance

Required course material

Study materials required for this course are provided by the Master office.

Course assignment and student evaluation

Grades in this course will be based on:
Final Exam 150 points
3 Group Case Analysis 75 points
Total: 225 points
Department of Economics and Management 
Master Office
Via U. Bassi 1 (4th floor),  35131 Padova
Opening hours: Monday-Friday, 9:00-14:00
phone: +39 049 8271229
mail: master.economia@unipd.it