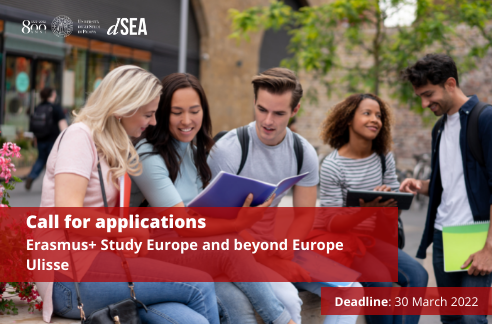 Outgoing Students
International students students can apply for an Erasmus+ for Studies scholarship during the first year of their second cycle degree course, in order to study abroad during the second year.
The Call for applications for study is open and applications can be submitted until:
- First call, January 13 2022 at 13:00

- Second call, March 30 2022 at 13:00
The call includes, among the possible destinations, Swiss partner universities joining the SEMP program and partner institutions from the ARQUS alliance.

Click here for the call presentation and instruction on how to apply.
Click here for the list of available destinations (ARQUS partner universities included).

Towards Erasmus: informative meetings

First meeting held on December 9th, 2021:  video - slideshow

Second meeting held on December 21st, 2021: video - slideshow

Applications will be assessed as follows:
Admission score (80/100 points), to be scaled on the maximum and minimum scores registered among candidates to a specific degree course.
(candidate's score - min score)/(max score - min score)*80
Master students' scores for merit are available on the Moodle course named "International Office".
English language certificate, not compulsory (17/100 points):
> B1 certificate or English test at dSEA: 9 points
> B2 certificate 13 points
> C1 certificate 17 points
Certificate related to a second language (if relevant to optioned destinations), not compulsory (3/100 points):
> B1 certificate 1 point
> B2 certificate 2 points
> C1 certificate 3 points
The certificates must be issued not earlier than 01/01/2019.
A language proficiency certificate can be required by host institutions: please check it by visiting partners' websites.