Interview with Katy (Meng-Hsuan) Chiu
We are pleased to present you an interview with Katy (Meng-Hsuan) Chiu, former student of the EFCM-MBM program (2010-2012 Edition) and currently Fragrance Development Manager at Firmenich in Singapore: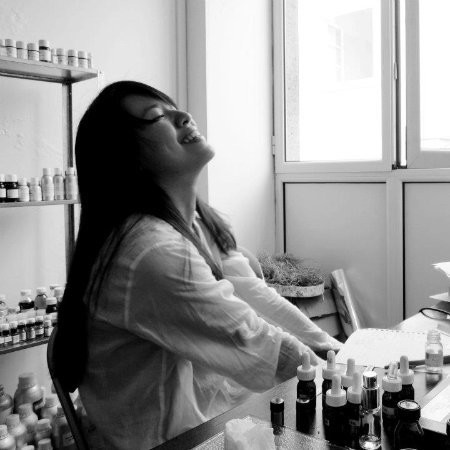 How did you find your passion in the field of fragrance and cosmetics?
I'm Taiwanese, I grew up in Taiwan and I've been interested in fragrance since I was a kid; I had my first fragrance - a non-alcohol perfume from Disney - when I was about 5 years old but I broke it. Since it was a glass bottle and I was a kid, I was so sad but since that time, I have always liked perfume. In Taiwan it's very hard to find any perfumery class, cosmetics - fragrance is not that common I think it's more a European thing, you can buy the product but you don't know the history, you don't know the secrets of how to get into it. So I was quite lucky when I was at University I met a Taiwanese girl from the EFCM second promotion I had a chat with her and I realized there was a way to learn about perfumery, I was very excited, it was my second year at University so I started to learn French and to take a lot of related class that could be good for my profile, so I kind of prepared to apply for EFCM for 2 years, since I discovered it, I slowly started to plan how to do it and then I applied for it!
What do you remember most about your experience during the EFCM-MBM program?
For me it was the first time I lived by myself in Europe so everything was really interesting: getting to know so many people coming from different countries; discovering raw materials and smelling all the fragrances in Versailles. When we went to Padova, we also got to know people from the industry so we had a wider look. For me the first year in France is useful to understand the history, the knowledge while the second year in Padova is more practical, it teaches you how to use it in the future.
I really appreciated the class size, at that time we were only 19 people in my class and there were about ten different nationalities. It is very good to have different people from different background and to exchange different ideas. I am still in touch with almost all of my former classmates, we text each other, we have our groups and sometimes we also share interesting job opportunities. The bound is very tight since we studied together for a long time; we share the same passion, after two years together even if now we do not talk every day we are still very strongly connected.
How did your professional career start once you finished the EFCM?
During the program I did two internships, in Symrise in China during the summer and then at Nicolas de Barry, a French niche perfumery house. After that, I was thinking to stay in Europe but it was not a very good time because of the economic crisis, so there were not so many opportunities, most of the positions were in Asia, Middle East, and South America. So in the end, I decided to go to Singapore but I think it might be a good start for a career because the market is really growing and is very vivid, so I came to Singapore for my first job, I did both evaluation and marketing - Fragrance Development plus Marketing – in EFF, European Flavors and Fragrances, a small family home British fragrance house. I talked directly with people from the headquarter, I worked with perfumers in London while I was based in Singapore. I had the opportunity to know a lot of things and I did marketing and evaluation in different applications: fine fragrance, hair care products or detergents, so it's really good to have an overall idea when you start your career. After this experience, I joined Robertet - I was thinking I have so much knowledge so, maybe I should be more specific – in Fragrance Evaluation and I also kind of build up the office in Singapore, at that time, Roberter just opened the office in Singapore so they need people who understand how it works, how to run projects, how to work with perfumers and within different depatments, so I had a small team with me, a lot of young passionate people, local trainees from a cosmetics program in Singapore - I think ISIPCA is now also communicating with them – they have knowledge and passion.  My job was training them and also organizing the team. It was quite interesting. Then, I moved again and now I am with Firmenich so I went to a more specific field of my job, I am doing fragrance development specifically in home care in Asian Market.
Which are your main responsibilities in your current position? 
Now for the global market, all the big international brands like P&G, Unilever, it is not growing as fast as before so a lot of big fragrance houses want to focus on more local clients so all the local big clients are growing very fast, very aggressive. They are willing to pay the money they have and they are welcoming for new ideas. So that is what we are focusing at the moment, I'm doing more local dynamos in the region.
It is my 5th year in Singapore. Sometimes I still miss France, Italy, Europe but I like what I'm doing so that's the main reason I'm staying in Singapore. For perfumery, it is really good, you have a lot of opportunities, a lot of new growing things going on in companies it's really fast moving now. I really like to travel so I do not mind to go to different countries as I did when I was in the EFCM.
Which module of the Master's program has been the most useful for your job?
Actually, I think that overall, the modules are all quite helpful. Therefore, I did Business Plan and we had many different subjects. What I liked the most about Padova University is (the fact) they always invited professors from different countries and from different universities.  It is really a great opportunity to meet American professors or from different places and the experts from industry, so I remember at that time our senior who wroks in L'Oréal came to our class to talk to us about the job and the industry. I think these are the most useful things for me cause most of  us never worked in a fragrance house before the program so during the second year is good to know more about how it's going on, and I liked the diversity of different professors, different places, different field of expertise, regulation, creation… it's really nice
Do you remember any amusing episodes?
We always go out together. It was a small class and so we always stayed together. If there was a party or a trip, we always went together. We were very close so it was fun. We spent Halloween party together; we went in Venice for the carnival. I remember the first one was in Padova where there was a big Carnival Party and then the second year we went to Venice wearing the Carnival masks; it was really fun and memorable. Now with the same group of people who are not in the same place anymore you can never get this kind of experiences together.
 What are your tips for future students and juniors?
Never be afraid to try. Sometimes we think a lot about "is it good for the future?" or "is it helpful for me?" but whatever we learn on the way will be helpful at some point in the future. Everything you can get you can learn, so just do not think and do not say, "This is not my job, I don't do this, and this is not what I am responsible for". You are the one gaining the experiences and gaining the abilities.