Padova Macro Talks - 2022 edition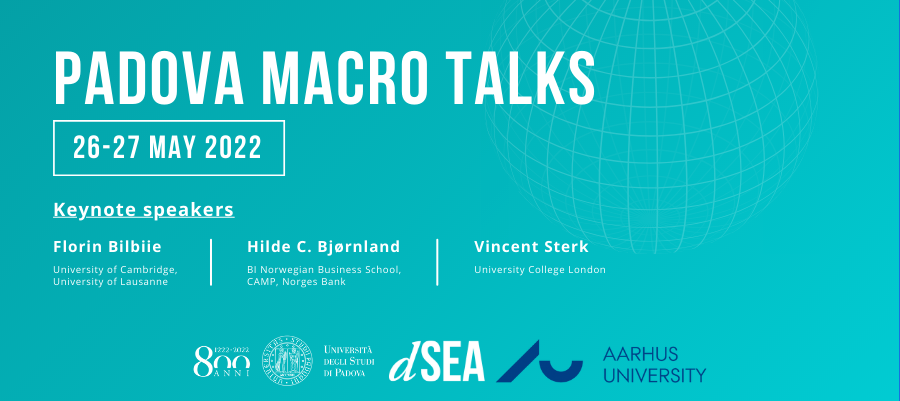 The 2022 edition of the Padova Macro Talks will gather leading scholars in the field of macroeconomics to generate a discussion on policy-relevant macroeconomics issues. The workshop will feature investigations on the macroeconomic impact of fiscal, monetary, and financial shocks at a domestic and global level. Methodological innovations, as well as applications involving state-of-the-art techniques, will also be part of this exciting program.
Organizers
Giovanni Caggiano (University of Padova)
Efrem Castelnuovo (University of Padova)
Lorenzo Mori (University of Padova)
Giovanni Pellegrino (Aarhus University)
---
People interested in attending the event in-person are kindly requested to contact Efrem Castelnuovo by May 19 via email at efrem.castelnuovo@gmail.com
If you are interested in attending the meetings online please register here
---
Full Programme - 26-27 May 2022
Day 1, May 26
9:30-11:30am: Session 1 - Morning
Chair: Giovanni Pellegrino
9:30-10:10am: Fiorella De Fiore (Bank for International Settlements), Big Techs and the Credit Channel of Monetary Policy (with Leonardo Gambacorta and Cristina Manea)
10:10-10:50am: Francesco Furlanetto (Norges Bank), The Macroeconomic Effects of the Gender Revolution (with Drago Bergholt and Luca Fosso).
10:50-11:30am: Marianna Riggi (Bank of Italy), Bargaining Power and the Phillips curve: A Micro-Macro Analysis (with Marco Jacopo Lombardi and Eliana Viviano)
11:30am-12:00pm: Coffee break
12:00-1:00pm: Session 2 - Morning
Chair: Giovanni Pellegrino
Keynote: Vincent Sterk (University College London), Startup Types, Structural Policy and Macroeconomic Performance in Europe (with Ralph de Haas and Neeltje van Horen)
1:00-2:30pm: Lunch break
2:30-3:50pm: Session 3 - Afternoon
Chair: Giovanni Caggiano
2:30-3:10pm: Martin Andreasen (Aarhus University), Sentiment Shocks, Stock Market Mispricing, and the Business Cycle (with Giovanni Pellegrino)
3:10-3:50pm: Anna Rogantini-Picco (Sveriges Riksbank), Who is Afraid of Eurobonds? (with Francesco Bianchi and Leonardo Melosi)
3:50-4:20pm: Coffee break
4:20-5:40pm: Session 4 - Afternoon
Chair: Lorenzo Mori
4:30-5:10pm: Salvatore Nisticò (Sapienza University of Rome), The Economics of Helicopter Money (with Pierpaolo Benigno)
5:10-5:50pm: Giovanni Ricco (University of Warwick and OFCE-SciencesPo), The Global Transmission of U.S. Monetary Policy (with Riccardo Degasperi and Seokki Simon Hong)
Adjourn
Dinner 7:30pm
Day 2, May 27
9:30-11:30am: Session 5 - Morning
Chair: Nicolas Groshenny
9:30-10:10am: Kenza Benhima (University of Lausanne), Foreign Currency Debt and Expectations (with Isabella Blengini and Ouarda Merrouche)
10:10-10:50am: Daniele Siena (Politecnico di Milano and Banque de France), Job Polarization, Labor Market Fluidity and the Flattening of the Phillips Curve (with Riccardo Zago)
10:50-11:30am: Federica Romei (University of Oxford), Monetary Policy During Unbalanced Global Recoveries (with Luca Fornaro)

11:30am-12:00pm: Coffee break
12:00-1:00pm: Session 6 - Morning
Chair: Giovanni Caggiano
Keynote: Hilde C. Bjornland (BI Norwegian Business School, CAMP, and Norges Bank), Oil and the Stock Market Revisited: A Functional VAR Approach (with Yoosoon Chang and Jamie L. Cross)
1:00-2:30pm: Lunch break
2:30-3:50pm: Session 7 - Afternoon
Chair: Efrem Castelnuovo
2:30-3:10pm: Haroon Mumtaz (Queen Mary University of London), The Macroeconomic Cost of Climate Volatility (with Piergiorgio Alessandri)
3:10-3:50pm: Giovanni Pellegrino (Aarhus University), Why Does Risk Matter More in Recessions than in Expansions? (with Martin Andreasen, Giovanni Caggiano, and Efrem Castelnuovo)
3:50-4:20pm: Coffee break
4:20-5:20pm: Session 8 - Afternoon
Chair: Efrem Castelnuovo
Keynote: Florin Bilbiie (University of Cambridge and University of Lausanne), Inequality and Business Cycles (with Giorgio Primiceri and Andrea Tambalotti)
End of the workshop