Head of Department:
Prof. Paola Valbonesi [bio]
ph. +39 049 827.4227
direzione.economia@unipd.it  

Head of Administrative Staff:
Elena Autizi
ph. +39 049 827.4269
direzione.economia@unipd.it
The organisational chart illustrates the main stakeholders involved in the governance system of dSEA, the internal organisational structures and the professional responsibilities.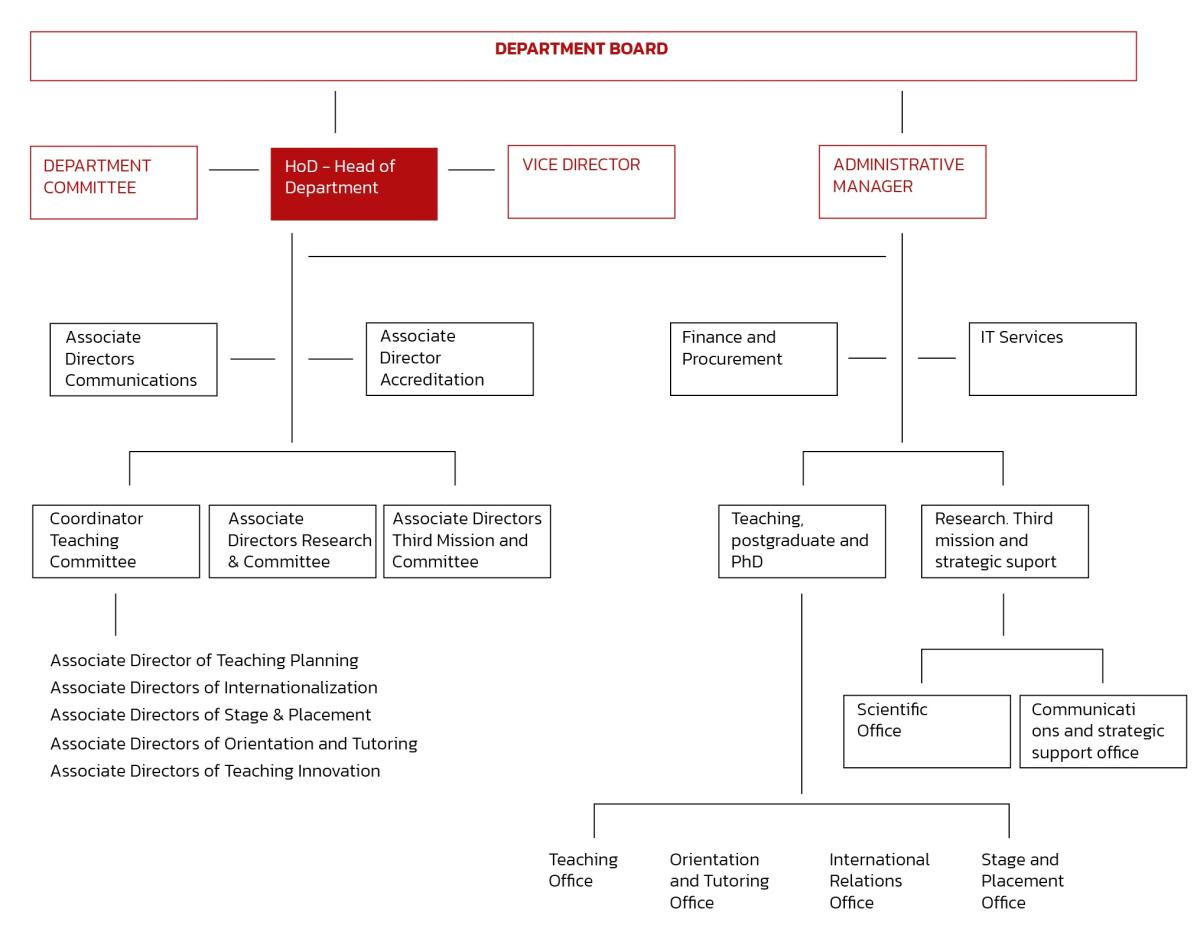 Appointment to the dSEA faculty carries rights and responsibilities as outlined in this Faculty Development Handbook (FDH), which is based on policies approved by the University and the dSEA and is applicable to all core faculty members. The responsibilities of core faculty members include research, teaching, and service, and third mission.
The specific responsibilities of other faculty members shall be set out in applicable policies and their individual contracts or letters of appointment.
The aims of the Advisory Board are to contribute to the updating and quality of the academic programme and enhance the reputation of the Department.
The members of the Advisory Board are:
Luca Vignaga (Gruppo Marzotto; AIDP) - Chairman of the Advisory Board
Lucie Courteau (Faculty of Economics and Management Free University of Bozen/Bolzano)
Guido De Blasio (Regional Analysis Division, Directorate General for Economics, Statistics and Research)
Alessia Fanton (FiloBlu)
Susanna Martucci Fortuna (Alisea Recycled & Reused Objects Design)
Chiara Marchetto (Ordine and Fondazione dei Dottori Commercialisti e degli Esperti Contabili di Padova)
Francesco Nalini (Carel Industries SpA; Agricola Biometano SpA)
Silvia Oliva (Fondazione Nord Est)
Philip O'Regan (Kemny Business school Triple accredited Business school)
Nicola Perin (OVS Spa)
Antonio Rigon (Sinloc SpA)
Alberto Ronco (SIMgest SpA)
Fabiano Schivardi (LUISS University)
Filippo Zagagnin (PricewaterhouseCoopers SpA)